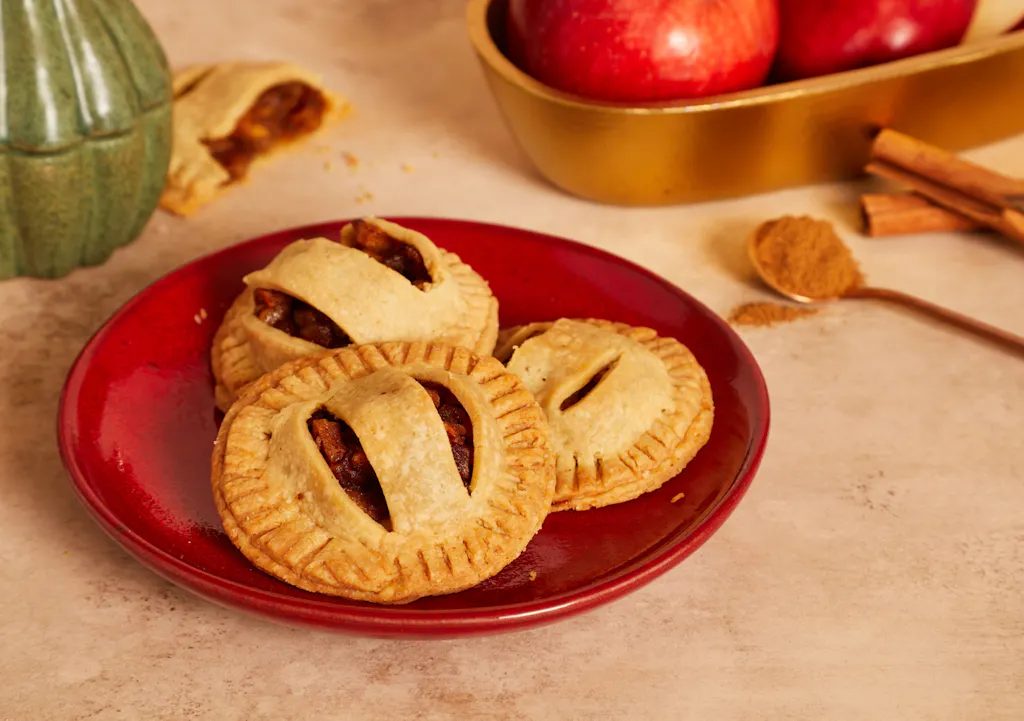 Apple Spiced Hand Pies
made with Arvinda's Autumn Apple Spice
These hand pies are timely for autumn when apples are in season. Since they are compact, they pack well for an autumn picnic or for a fall hike. Gala, McIntosh or Red Delicious apple varieties are the choice for this recipe, so the apples retain their shape when baked and stay firm.
Prep Time
30 min
Cook Time
30 min
Yield
12 to 14 hand pies
APPLE FILLING:

3 TBSP.

2 ½ TBSP.

1 TBSP.

ARVINDA'S AUTUMN APPLE SPICE

4 CUPS
SHORTCRUST PASTRY:

2 CUPS

unbleached all-purpose flour, plus extra for dusting

3 TBSP.

½ CUP

cold salted butter, cubed

2 TBSP.
APPLE FILLING: In a large non-stick skillet, melt the butter on medium heat. Stir in the sugar, add ARVINDA'S AUTUMN APPLE SPICE and the apples. Cook for a few minutes until the apples soften and are cooked.

SHORTCRUST PASTRY: In a large bowl, add the flour, sugar and salt. Add the butter and using your fingers combine the butter with the flour. Add the milk to create a stiff dough.

Preheat the oven to 300F/150C/Gas Mark 2.

Flour a surface and roll out the dough ⅛-inch to ¼-inch thick. Using a 3-inch (8.5 cm) diameter cookie cutter cut the dough into circles. Take one circle and fill it with ⅛ cup of the apple filling. Place another circle on top and using a knife, create three slits to allow the steam to escape. Using a fork, crimp the pastry around the edges to seal the hand pie.

Bake in the center of the oven for 20 minutes or until the edges of the pastry are golden brown in colour.