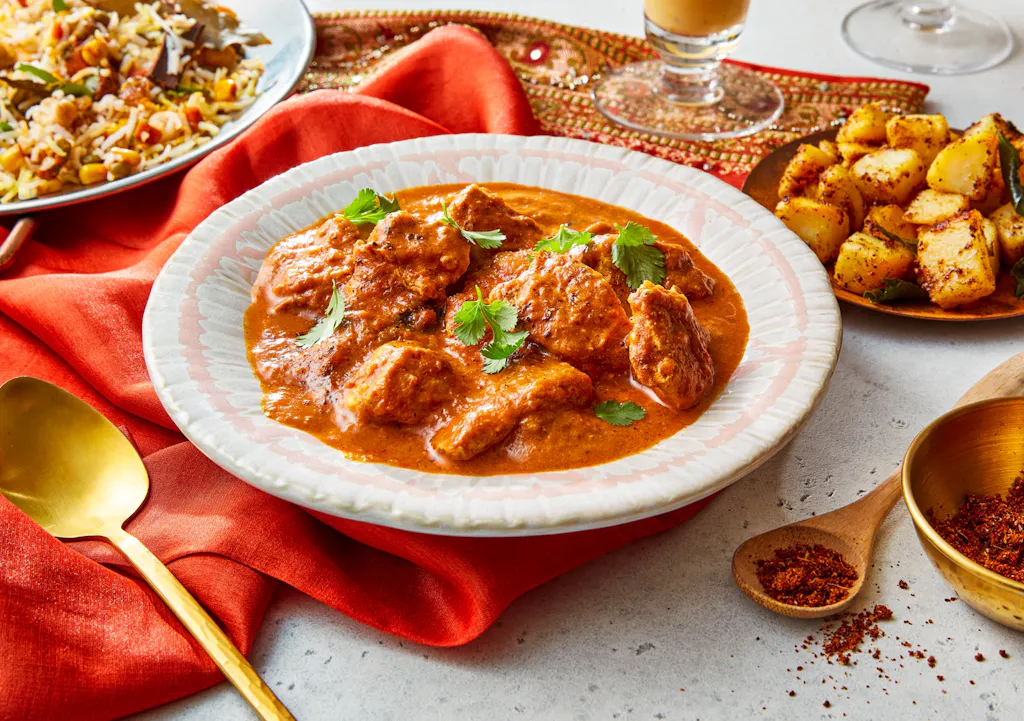 Chicken TIkka Masala
made with Arvinda's Tikka Masala
This aromatic tomato-based curry is so popular that it's also known as 'CTM' for short! Make this delicious restaurant favourite with ease in your own home using Arvinda's Tikka Masala. Try with paneer, an Indian pressed cheese, for a vegetarian substitute.
Prep Time
15 min
Marinating Time
120 min
Cook Time
45 min
Serves
2 to 4
MARINADE

¼ CUP

2 TSP.

1 TSP.

fresh lime OR lemon juice

½ TSP.

1 LB.

skinless, boneless chicken breasts, cubed
SAUCE

4

medium onions, peeled and coarsely cubed

1 ½ CUPS

3 TBSP.

2 to 3 EACH

black peppercorns, cardamom pods, cinnamon bark, cloves and star anise from ARVINDA'S WHOLE SPICES

½ CUP

crushed tomatoes, canned and unsalted

2 TBSP.

ARVINDA'S TIKKA MASALA (use 1 ½ TBSP. for milder flavour)

½ CUP

1 TSP.

¾ TSP.

1 TSP.

fresh lime OR lemon juice

½ TSP.

ARVINDA'S GARAM MASALA, to garnish

Fresh cilantro, finely chopped, to garnish
MARINADE: In a large bowl, mix the marinade ingredients together. Add the chicken, coat well and cover. Refrigerate for at least 2 hours (or overnight) to marinate.

Preheat the oven to 200C/400F/Gas Mark 6. Put the chicken on a foil lined baking sheet and bake for 10 minutes or until the chicken is cooked. Set aside. Option: For best results, grill on the barbeque.

SAUCE: In a small pot, boil the onion with 1 cup of water until softened and cooked. Drain, then purée the onion in a food processor until smooth.

In a heavy-based, non-stick medium pot, add ARVINDA'S WHOLE SPICES and fry for 30 seconds. Add the puréed onion and cook for 10 minutes until it becomes a thick paste.

Reduce the heat to medium and stir in the tomatoes and add ARVINDA'S TIKKA MASALA. Cook for 2 to 3 minutes, stirring.

Stir in the cream, the sugar and salt. Fold in the cooked chicken and simmer for 10 minutes. Add the remaining ½ cup of water and cook for a few more minutes. Add the lime juice. If necessary, thin out the sauce with a little extra water to get the desired consistency and add extra salt to taste, if needed.

Garnish with a sprinkling of ARVINDA'S GARAM MASALA and cilantro.