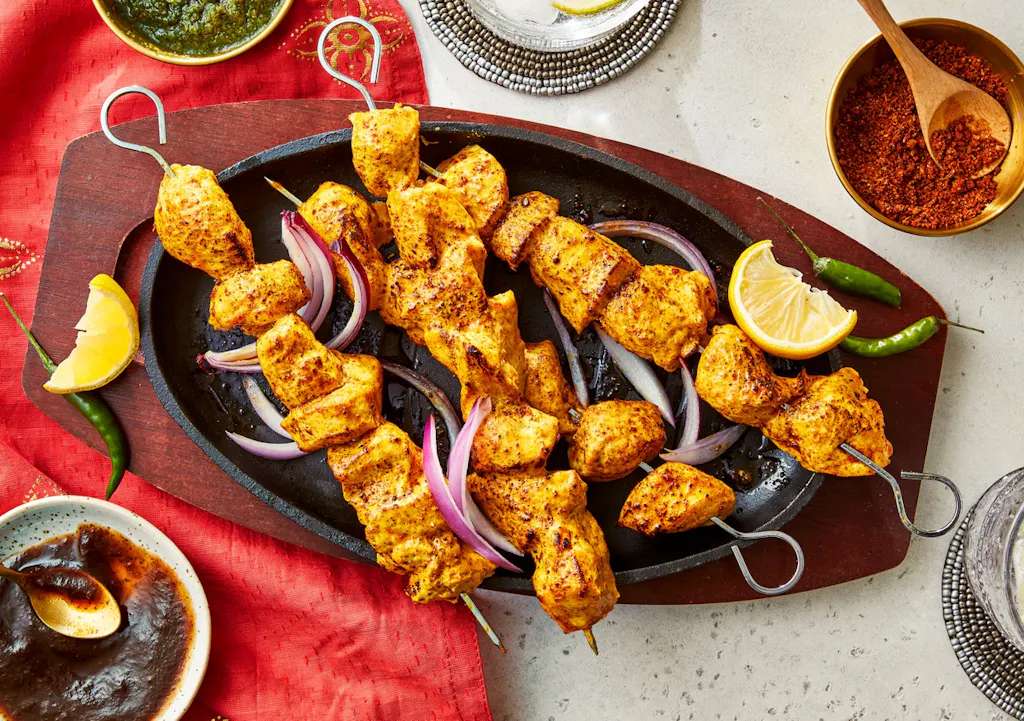 Chicken Tikka Sizzler
made with Arvinda's Tikka Masala
Often served in restaurants on a sizzler platter with vegetables, Chicken Tikka Sizzler is dish of skinless, boneless chicken pieces marinated in a spiced yogurt marinade and cooked over hot coals or in a tandoor, a clay oven. Try it on your barbecue! Serve on a bed of basmati rice with raita or with coriander chutney as an appetizer. Stuff into a pita or wrap with lettuce, tomatoes and red onions for a healthy lunch. Yum!
Marinating Time
120 min
Cook Time
15 min
Serves
2 to 4
| | |
| --- | --- |
| ¼ CUP | |
| 1 TBSP. | |
| 1 TSP. | |
| ¼ TSP. | |
| 1 LB. | boneless chicken breasts, cubed |
| 8 | |
| ½ | red onion, cut into thin slices, to garnish |
| ½ TSP. | ARVINDA'S GARAM MASALA, to garnish |
In a medium bowl, add the yogurt, ARVINDA'S TIKKA MASALA, lemon juice and salt. Mix well and add the chicken, coating it thoroughly. Cover and refrigerate for at least 2 hours (or overnight) to marinate.

Preheat the oven to 400F/200C/Gas Mark 6. Transfer the chicken to foil-lined baking sheet and bake for 15 minutes or until the chicken has lost its pinkness and the juices run clear. Remove from oven. Option: Grill on barbeque.

Transfer to a serving platter. Garnish with red onions and a sprinkling of ARVINDA'S GARAM MASALA. Serve with a variety of chutneys as an appetizer or on a bed of basmati rice and with naan for a meal.