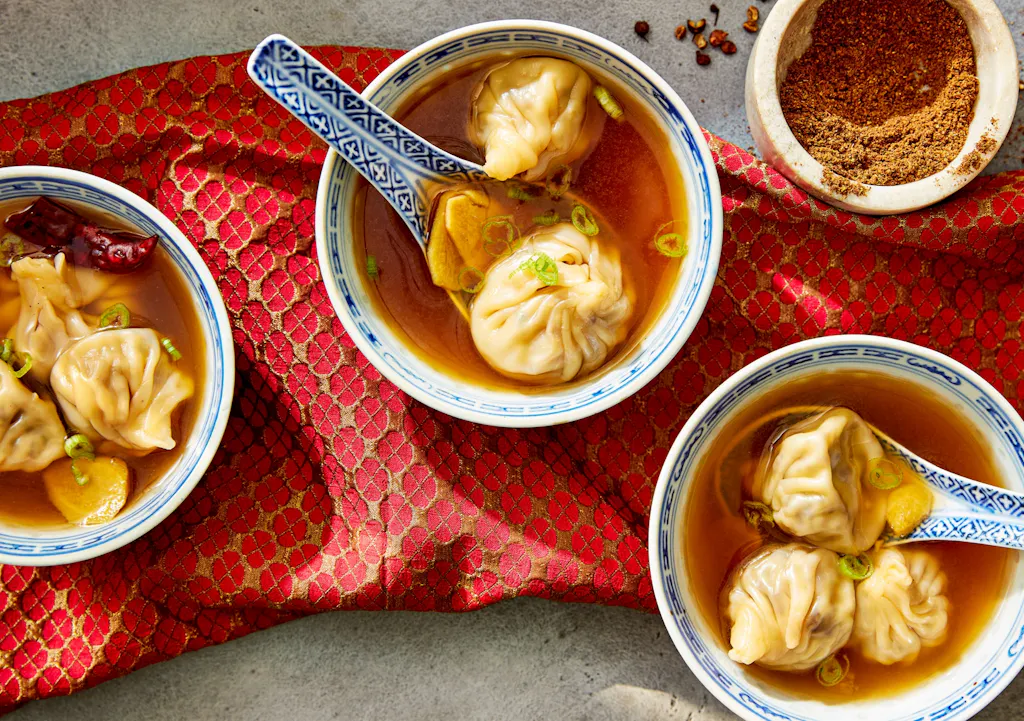 Chinese Five Spice Red Cabbage Dumplings in a Curried Broth
made with Arvinda's Chinese Five Spice & Arvinda's Curry Powder
Celebrate the Lunar New Year with this bold curried broth with Chinese five spice scented cabbage dumplings, which will taste just as spectacular as it looks on a celebratory banquet table. Included in this recipe, is a vegan option using a plant-based 'veggie ground round'.
Prep Time
45 min
Cook Time
45 min
Serves
4 to 6
CURRIED BROTH

6 CUPS

2 TBSP.

2 TBSP.

1 TBSP.

palm sugar OR raw cane sugar

1 TSP.

2

2

garlic cloves, finely minced

1-INCH

piece ginger, finely shredded
DUMPLINGS FILLING:

1 TBSP.

2

garlic cloves, finely minced

¼ LB.

ground pork OR vegetarian 'ground round'

2 TSP.

ARVINDA'S CHINESE FIVE SPICE

2 TSP.

2 TSP.

1 TSP.

1 CUP

finely shredded red cabbage

¼ CUP

finely chopped fresh cilantro

2 TSP.

1 TSP.
| | |
| --- | --- |
| 24 | |
| | all-purpose flour, for dusting |
CURRIED BROTH: In a large pot, add the stock, soy sauce, lime, sugar and ARVINDA'S CURRY POWDER and simmer on medium heat. Add the chilies, garlic and ginger and continue to simmer for 10 to 15 minutes, then set aside.

DUMPLINGS FILLING: In a large non-stick skillet, heat the oil on medium-high and fry the garlic until it becomes fragrant. Add the pork or veggie 'ground round' and season with ARVINDA'S CHINESE FIVE SPICE. Add in the sesame, soy sauce and vinegar and mix to combine. Fold in the cabbage and cilantro and stir fry for 10 minutes, or until the mixture is well cooked. Remove off the heat and cool to room temperature.

Place a dumpling wrapper on a well-floured surface. Moisten the edges with a little water and place 1 tablespoon amount of filling in the center. Fold over and create pinches to seal the dumpling into a half moon shape, or a parcel. Continue with the rest of the dumplings.

Gently place the dumplings into the Curried Broth and simmer for 10 to 15 minutes until the dumplings are cooked. If the broth has reduced, you can add a little extra water to thin it out.