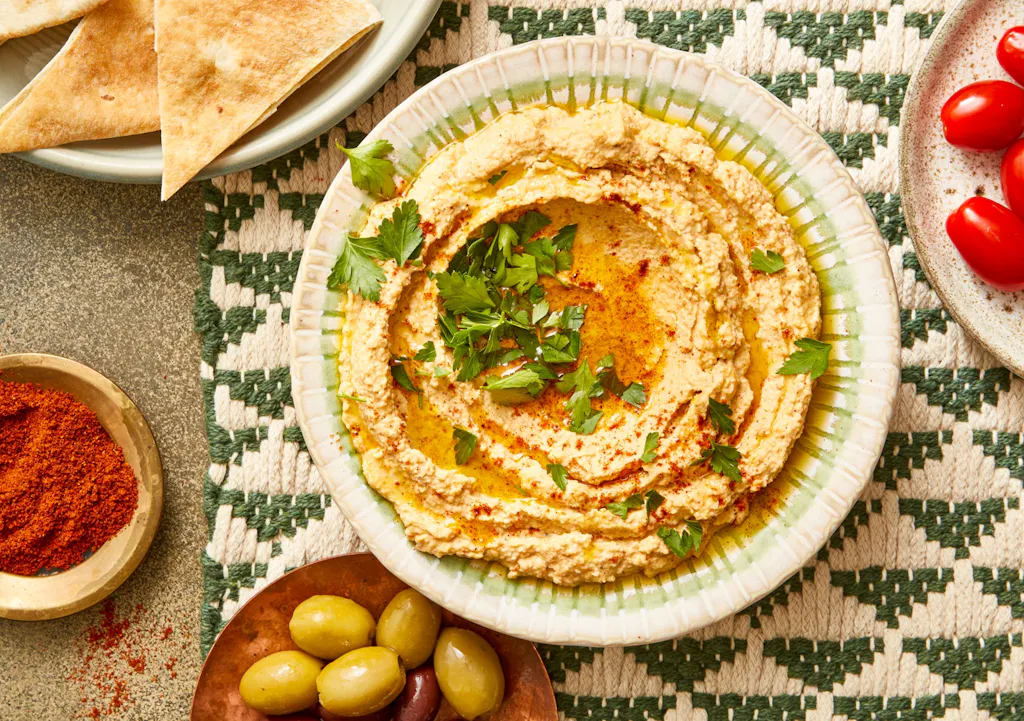 Hummus Baharat
made with Arvinda's Bishara's Baharat
Baharat your hummus! With a depth of spicing loaded with paprika, make this your 'go-to' hummus on a sharing platter of fresh cut veggies, pita bread wedges, olives and grape tomatoes. Or layer it up on grainy bread with an avocado slice and microgreens for a haute vegetarian sandwich.
Prep Time
15 min
Yield
About 2 cups
HUMMUS:

2 CUPS

chick peas, cooked, OR 540ml (19-ounce) can, rinsed and drained

⅓ CUP

3 TBSP.

2 ½ TBSP.

ARVINDA'S BISHARA'S BAHARAT

2 TBSP.

2 TSP.

2 to 3

¼ to ½ TSP.
TOPPING:

1 TBSP.

1 TBSP.

finely chopped parsley, to garnish

¼ TSP.

ARVINDA'S BISHARA'S BAHARAT, to garnish
HUMMUS: In a food processor, combine all ingredients and purée until smooth.

TOPPING: Garnish with a drizzle of olive oil, a sprinkling of parsley and dusting of ARVINDA'S BISHARA'S BAHARAT. Serve with grape tomatoes, cut vegetables and pita bread as a dip, or use as a delicious spread for a sandwich.