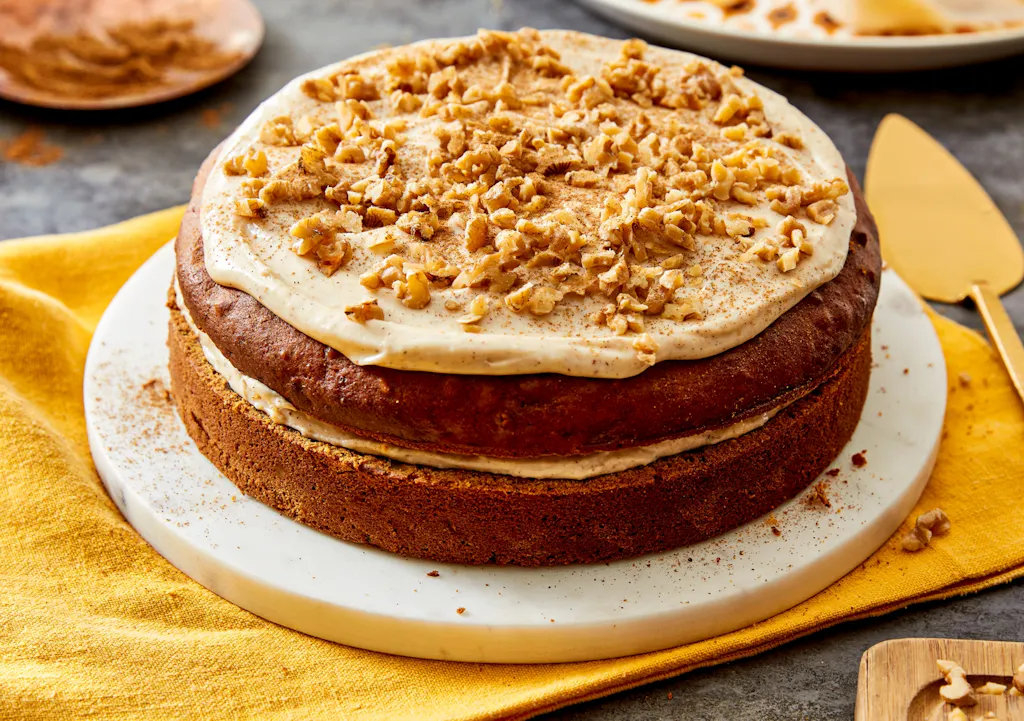 Pumpkin Spiced Walnut Cake
made with Arvinda's Pumpkin Spice
When fall arrives and the pumpkin patch is brimming with pumpkins galore, we can't think of another way to celebrate the season than with pumpkin spice! This cake alone has us craving for fall to come quickly just so we can enjoy this special and festive warming spiced cake all season long.
Prep Time
40 min
Cook Time
60 min
Serves
8
PUMPKIN SPICED WALNUT CAKE

2 ½ CUPS

unbleached all-purpose flour

1 TBSP.

1 TSP.

¾ CUP

butter, softened at room temperature

1 ¼ CUP

2 TSP.

3

eggs, at room temperature

1 ⅔ CUP

pureed pumpkin OR 400ML (14-OZ)pureed pumpkin, canned

¼ CUP

1 ½ CUPS
CREAM CHEESE FROSTING

225g (8-OZ)

½ CUP

butter, softened at room temperature

3 CUPS

2 TSP.

2 TSP.

PINCH
Grease two 9-inch round cake tins. Set aside. Preheat the oven to 350F/180C/Gas Mark 4.

PUMPKIN SPICED WALNUT CAKE: In a large bowl, combine all the dry ingredients together—flour, ARVINDA'S PUMPKIN SPICE, baking powder and baking soda. Set aside.

In a separate large bowl, cream the butter with the sugar. Add vanilla and the eggs and mix to combine. Add the pumpkin, sour cream and fold in 1 cup of walnuts.

Combine the dry ingredients with the wet ingredients to form the batter. Pour into the cake tins and bake in the oven for 1 hour or until a knife pierced through the center of the cake comes out dry.

CREAM CHEESE FROSTING: Combine the cream cheese with the butter. Mix in the icing sugar until the frosting becomes the desired consistency. Add the vanilla, sprinkle in ARVINDA'S PUMPKIN SPICE and mix in the salt.

To assemble the cake, place one cake on a plate. Add a layer of the Cream Cheese Frosting, then layer the other cake on top. Frost the top of the cake and garnish with ½ cup of walnuts.