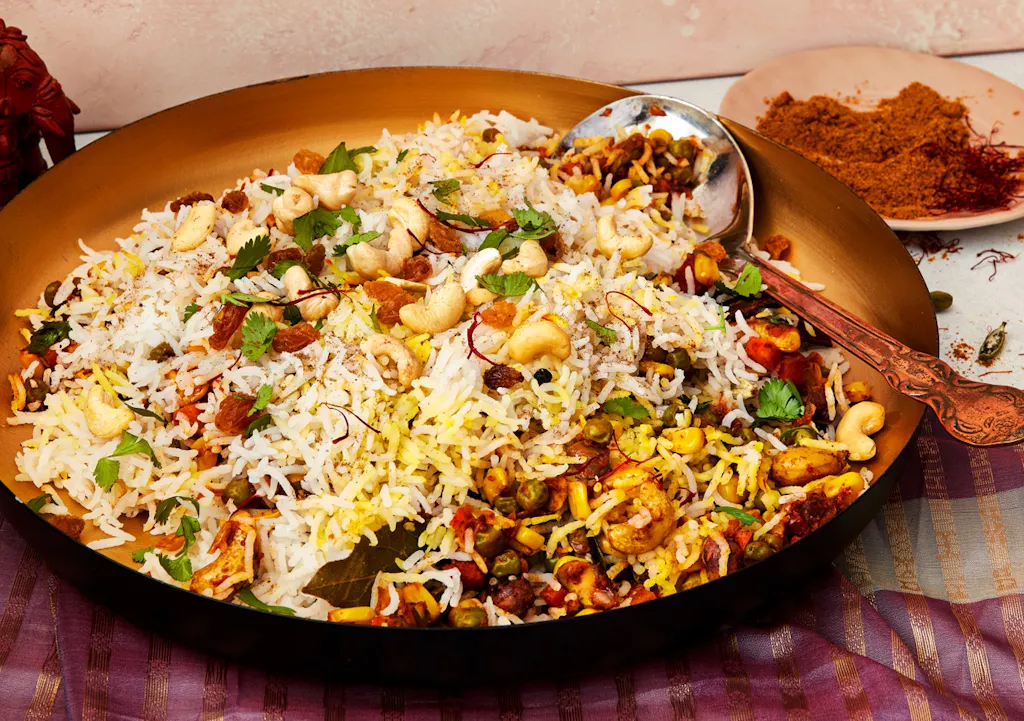 Layered Lamb Biryani
made with Arvinda's Biryani Masala
No other Indian meal conjures the romantic mysticism of this storied land than Biryani. This timeless classic of succulent lamb pieces simmered in spices and layered with beautifully aromatic, jeweled basmati rice is one of the most magnificent ways to enjoy the best of India's spectacular cuisine. A meal-in-one for all to celebrate!
Prep Time
25 min
Marinating Time
120 min
Cook Time
50 min
Serves
4
LAMB MARINADE

½ CUP

1 TSP.

1 TSP.

1 TSP.

1 TSP.

1 LB.

skinless boneless lamb, cut into cubes
LAMB MASALA

2 TBSP.

½ CUP

¼ CUP

crushed tomatoes, canned and unsalted

1 TSP.

½ TSP.

¼ CUP

¼ CUP
RICE

2 TBSP.

2 CUPS

1 TSP.

2 EACH

black peppercorns, cardamom pods, cinnamon bark, cloves and star anise from ARVINDA'S WHOLE SPICES

3

8 to 10

saffron strands, soaked in 1 tbsp. of water

½ CUP

2 TSP.
In a large bowl, combine all the marinade ingredients together and add the lamb, coating well. Cover and refrigerate for at least 2 hours (or overnight) to marinate.

In a large non-stick skillet, melt the ghee on medium-high and add the onions. Cook until caramelized, for about 10 minutes, stirring.

Add the tomatoes and sprinkle in ARVINDA'S BIRYANI MASALA and the salt. Reduce the heat to medium-low, add the lamb coating with the masala. Cover and cook for 15 to 20 minutes or until the lamb pieces are fully cooked. Fold in the cashews and the raisins. Set aside.

COOKING THE RICE: In a large bowl, wash the rice in a few changes of lukewarm water and soak for 10 minutes.

Grease a large casserole dish with 1 tablespoon of ghee. Set aside.

Drain the rice and add it to a stock pot, with plenty of fresh water, the salt, ARVINDA'S WHOLE SPICES and the bay leaves. Boil the rice until it is nearly done (al dente). Take care not to overcook it. Drain and transfer it to a large pot or dish and gently fold in 1 tablespoon of ghee. Gently mix in the saffron. Divide the rice into two parts.

Preheat the oven to 180C/350F/Gas Mark 4.

ASSEMBLING THE BIRYANI: Spread half of the rice evenly in the casserole dish. Sprinkle with a dusting of ARVINDA'S GARAM MASALA and cilantro. Layer with the masala lamb and garnish again with ARVINDA'S GARAM MASALA and cilantro. Finally, cover the lamb layer with the remaining rice.

Cover the casserole dish with foil and bake in oven for 15 to 20 minutes until piping hot. Garnish with the remaining cilantro and sprinkle once again with ARVINDA'S GARAM MASALA. Serve with yogurt or raita.