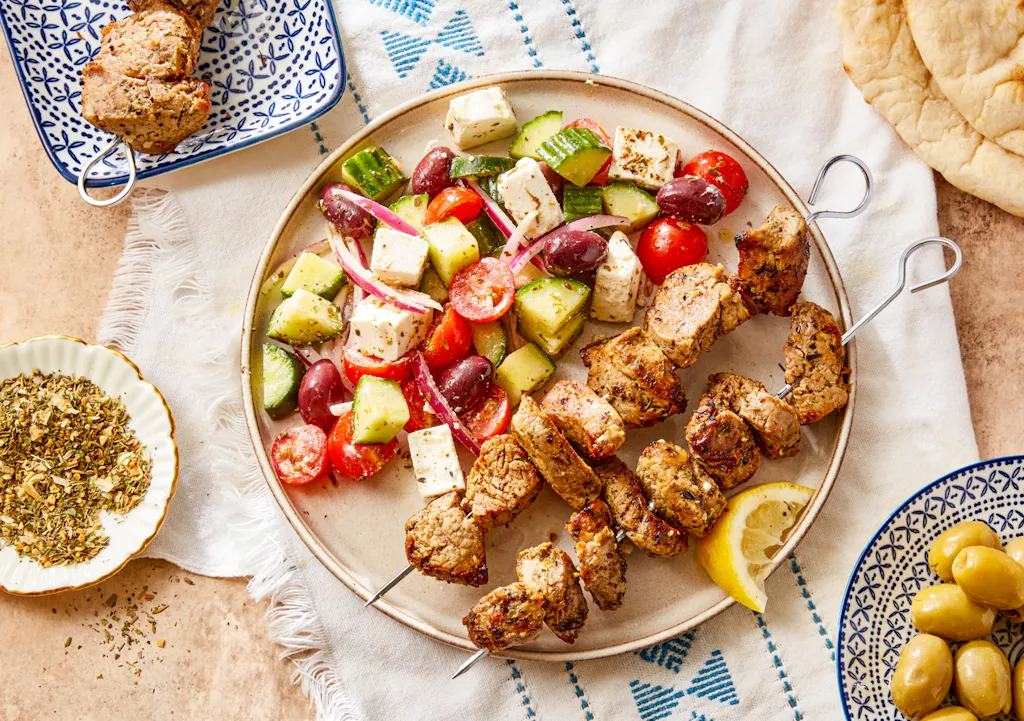 Soulvaki with Greek Salad
made with Arvinda's Greek Taverna
Souvlaki—marinated meat on skewers—is a staple of Greek cuisine and is served with fresh Greek salad with olives, grape tomatoes and cucumber alongside warm pitas. With all its freshness and flavour, make this meal and get taken away to a coastal hilltop overlooking the Aegean Sea in the bright sun!
Prep Time
25 min
Marinating Time
120 min
Cook Time
15 min
Serves
4
SALAD

1

medium red onion, thinly sliced

½

12

Kalamata olives, pitted and halved

8

grape tomatoes OR cherry tomatoes, halved

1 CUP
DRESSING

3 TBSP.

2 TBSP.

2 TSP.

2 TSP.

½ TSP.
SOUVLAKI

¼ CUP

2 TBSP.

1 TBSP.

1 TBSP.

1 ½ TSP.

1 LB.

boneless pork tenderloin, cubed (OR skinless boneless chicken breast, cubed)

4

metal skewers OR bamboo skewers, soaked for 1 hour in water
SALAD: In a medium or large bowl, combine the onions, cucumber, olives and tomatoes. Set aside.

DRESSING: Combine the dressing ingredients together and stir to combine. Add all the dressing to the salad, then gently fold in the feta. Cover and refrigerate.

SOUVLAKI: In a large bowl, mix the oil, vinegar, lemon, ARVINDA'S GREEK TAVERNA, and salt. Add the pork (or the chicken), coating well. Cover and refrigerate for 4 hours to marinate.

Thread the meat onto the skewers and grill on the barbecue until slightly charred on the outside, cooked on the inside and until the juices run clear. Serve with warm pitas, Greek Salad and thick yogurt or tzatziki on the side.