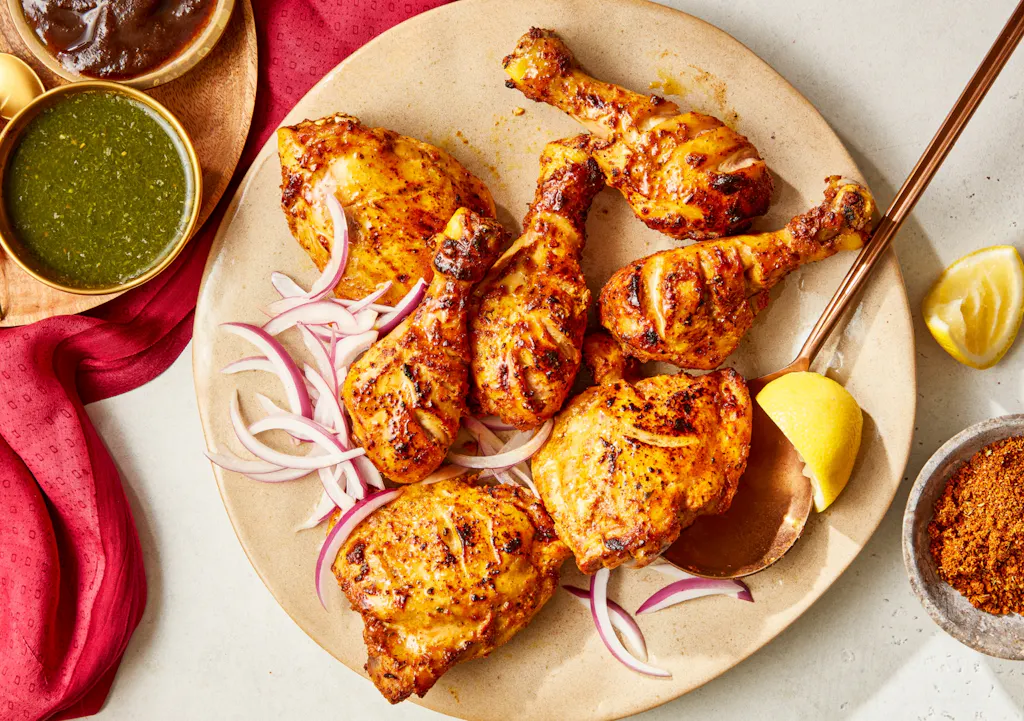 Succulent Tandoori Chicken
made with Arvinda's Tandoori Masala
Use Arvinda's Tandoori Masala to make the ever-popular Tandoori Chicken. Bake in the oven or cook on the barbecue grill (even better!) and serve with naan and raita for a delicious, healthy meal. Vegetarian Alternative: Try tandoori paneer ... it's a great match!
Prep Time
15 min
Cook Time
35 min
Serves
2 to 4
| | |
| --- | --- |
| 2 LB. | chicken pieces, skinless (6 to 7 mixed pieces, thighs, breasts and legs) |
| | |
MARINADE

⅓ CUP

3 TBSP.

ARVINDA'S TANDOORI MASALA (add 1 tsp. extra for spicier)

1 TBSP.

2 TSP.

1 TSP.

1 to 2

garlic cloves, finely minced (optional)

½ TSP.

natural red food colouring (optional)

½ TSP.

ARVINDA'S GARAM MASALA, to garnish

Fresh cilantro, finely chopped, to garnish
In a large bowl, combine all the marinade ingredients together. Reserve some marinade for basting if cooking the chicken on the barbeque. Add the chicken and coat evenly. Cover the bowl, refrigerate, and marinate overnight (or for at least 4 hours).

Cook on the barbeque and baste with the reserved marinade as needed. Garnish with cilantro and ARVINDA'S GARAM MASALA.

Garnish with a sprinkling of ARVINDA'S GARAM MASALA and cilantro.

OVEN METHOD: Preheat the oven to 200C/400F/Gas Mark 6 and set one oven rack at the top position and the other at the center position. Place the marinated chicken on a foil-lined baking sheet and bake in the center of the oven for 20 minutes. Flip the chicken over, baste with oil and return it to the oven for another 10 minutes or until the chicken is fully cooked. Change the oven temperature to the broiler setting and move the baking sheet to the top oven rack. Broil the chicken for 2 minutes to give it a slight char. Flip and repeat it on the other side, if desired.