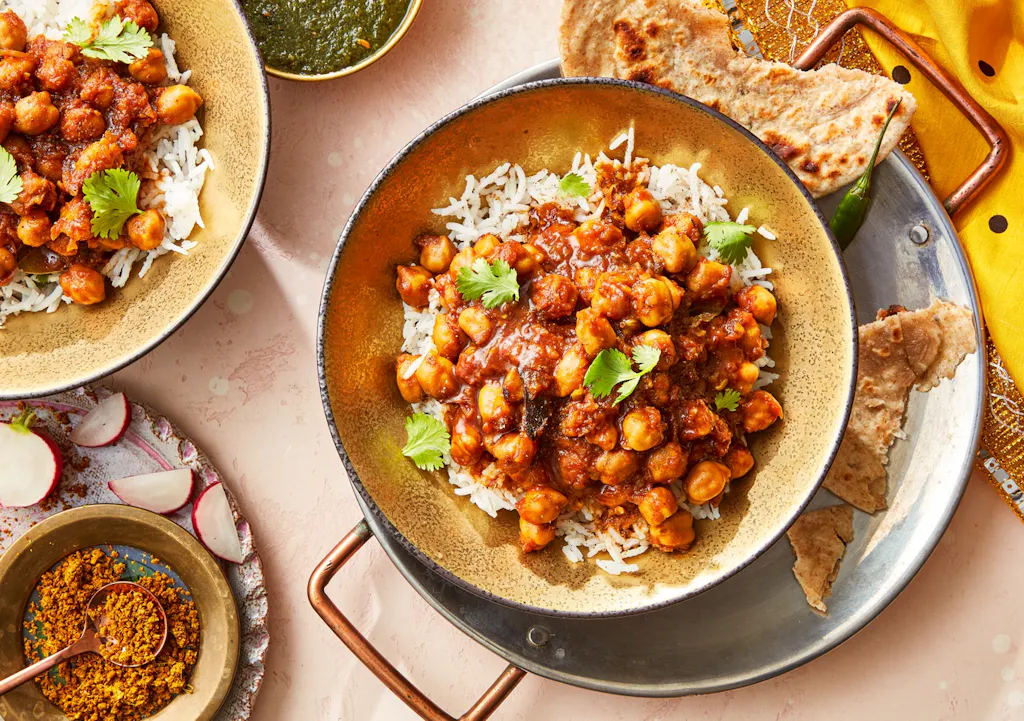 Sweet & Tangy Channa Masala
made with Arvinda's Curry Masala
A vegetarian Indian delight! Earthy chick peas immersed in an aromatic tomato and onion curry sauce. This recipe is a tangy and sweet version that pairs best with basmati rice or naan. Leftovers are ideal on top of a salad with a raita yogurt dressing or stuffed into a wrap or pita pocket for a quick lunch. Channa Masala is quick enough to prepare so that it can easily make its rounds in your repertoire of weekly meals.
Prep Time
10 min
Cook Time
35 min
Serves
2 to 4
| | |
| --- | --- |
| 3 TBSP. | |
| 2 EACH | black peppercorns, cardamom pods, cinnamon bark, cloves and star anise from ARVINDA'S WHOLE SPICES |
| ½ CUP | |
| ¼ CUP | crushed tomatoes, canned and unsalted |
| 1 TBSP. | |
| 1 TSP. | |
| ½ TSP. | |
| 2 CUPS | |
| ½ CUP | water, add extra if needed |
| 1 TSP. | |
| ½ TSP. | ARVINDA'S GARAM MASALA, to garnish |
| | Finely chopped fresh cilantro, to garnish |
In a heavy-based pot or pan, heat the oil on medium-high. Add ARVINDA'S WHOLE SPICES and fry for one minute until the spices are fragrant, taking care not to burn them.

Add the onions and cook until caramelized, approximately 10 minutes, stirring continuously.

Reduce the heat to medium, stir in the tomatoes and cook for another minute. Sprinkle in ARVINDA'S CURRY MASALA, sugar and tamarind and cook for a couple of minutes.

Fold in the chick peas and add the water to create a sauce. Add the salt to taste. Cover and simmer for 10 minutes.

Add a little extra water if necessary, simmer for a couple of minutes and garnish with ARVINDA'S GARAM MASALA and cilantro. Serve with basmati rice and a side salad to make a healthy, well-balanced meal.