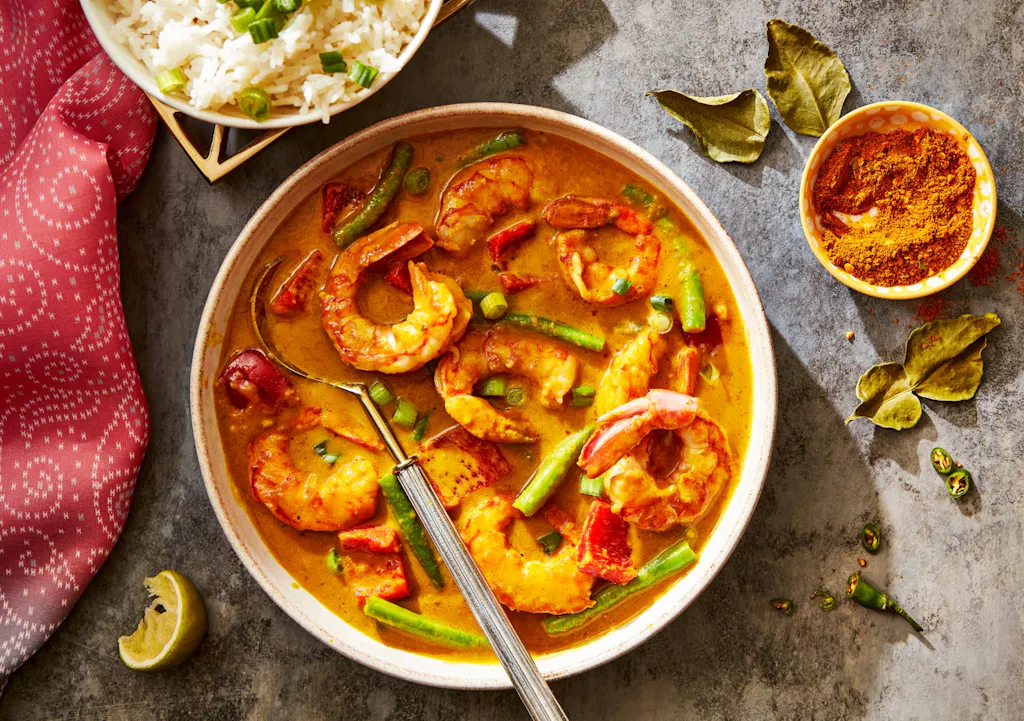 Thai-Style Shrimp Curry
made with Arvinda's Tuk Tuk Thai Curry
When craving a beautifully fragrant Thai coconut curry, this easy recipe will deliver a deliciously authentic result! For a vegetarian option, follow the same the recipe but substitute with seasoned extra-firm tofu. If you're feeling adventurous and wish to make this curry hotter, source Thai bird's eye chilies and add 1 to 2 in the food processor when making the Thai curry paste. Serve with piping hot fragrant Thai jasmine rice.
Prep Time
15 min
Cook Time
25 min
Serves
2 to 4
THAI CURRY PASTE:

¼ CUP

1

2 to 3

1-INCH

2 TBSP.

ARVINDA'S TUK TUK THAI CURRY

2 TBSP.

2 TBSP.

1 TSP.

1 to 2

fresh green chilies (optional)
SHRIMP CURRY:

3 TBSP.

400 ML (14 OZ)

1 CUP

½ CUP

green beans, cut into finger-like pieces

Pinch

1 LB.

shrimps, deveined with the tails on

½ CUP

finely chopped green onions, to garnish
THAI CURRY PASTE: In a food processor, process all the ingredients to a smooth paste.

SHRIMP CURRY: In a large wok or pan, heat the oil on medium-high. Add the curry paste and cook for 10 to 15 minutes until reduced, stirring continuously.

Add the coconut milk and stir to combine. Reduce the heat to medium and add the bell pepper and green beans.  Season with salt to taste and simmer for a few minutes until the vegetables become tender.

Add the shrimp and cook for a couple of minutes until they turn pink. If the curry sauce becomes too thick, you can thin it out with a little water until you reach the desired consistency.

Garnish with green onions and serve hot over jasmine rice.