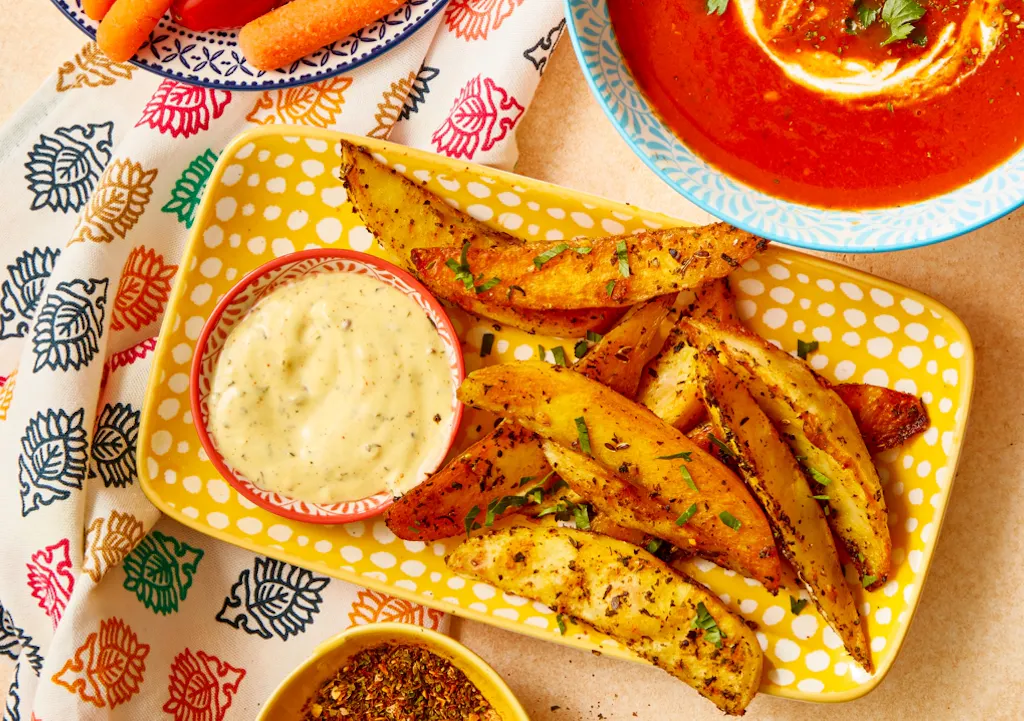 Yummy Potato Wedges with Creamy Dipping Sauce
made with Arvinda's Just For Kids
Potato wedges are the way to go if you're looking for a tasty side for any kids' meal. These Yummy Potato Wedges are served with a Creamy Dipping Sauce instead of your typical ketchup, although ketchup works well too! NOTE: In this recipe, we save cooking time by parboiling the potatoes first. If you wish to skip that step, you can just bake the raw cut potatoes tossed in olive oil, Arvinda's Just For Kids blend with salt for 40 to 45 minutes in the oven (see step 4).
Prep Time
10 min
Cook Time
30 min
Serves
4
POTATO WEDGES:

4 to 5

Russet potatoes, peeled and cut into wedges

1 TSP.

sea salt, plus extra to taste

2 TBSP.

2 TSP.
CREAMY DIPPING SAUCE:

⅓ CUP

1 TBSP.

1 TSP.

1 TSP.

Sea salt, to taste (optional)
POTATO WEDGES: In a medium pot, add the potato wedges and salt, and cover with water. Cover with a lid and bring to a boil for 5 to 7 minutes or until the potatoes are tender but not fully cooked. Drain.

Line a baking sheet with foil and set aside. Preheat oven to 450F/230C/Gas Mark 8.

CREAMY DIPPING SAUCE: In a small bowl, combine dipping sauce ingredients. Stir and set aside.

In a medium or large bowl, toss the parboiled potato wedges with olive oil and ARVINDA'S JUST FOR KIDS blend. Sprinkle with salt as needed. Place on baking sheet and bake in oven for 15 to 20 minutes until crispy, turning over occasionally.

Serve these Yummy Potato Wedges as a side for any kids' meal with the Creamy Dipping Sauce.